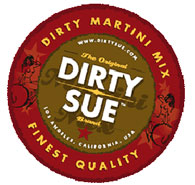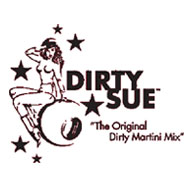 As people say,
"The dirtier, the better."
FREEZ-A-DRINK Products
Products > Dirty Sue™, "The Original Dirty Martini Mix"
Dirty Sue is twice-filtered olive juice brine made from premium olives. If you really enjoy dirty martinis, then Dirty Sue will give you the best tasting martini you've ever had!
As people say, "The dirtier, the better."
The Dirty Details
The 4 C's of Dirty Sue

CONVENIENCE
Bartenders will no longer waste time looking for and handling clumsy olive jars.
CONSISTENCY
Dirty Sue is made from premium olives and then twice filtered. Every "Dirty Sue" poured will be as perfect as the last one you savored.

CLEANLINESS
Customers need not to worry about their Dirty Martinis being, "dirty." By using Dirty Sue, Customers are guaranteed the "cleanest" Dirty Martini they've ever enjoyed.
COST EFFECTIVE
Dirty Sue will eliminate the expense of wasting olives. Say goodbye to jars with no brine, full of rotting olives. The Brine can now stay in the jar, keeping the olives fresh the way it's supposed to be!
Order in these convenient sizes: 375 ml and 750 ml
Contact us today to order Dirty Sue for your bar, restaurant or home.