FREEZ-A-DRINK Products
Products > RoxiSpice Rimming Spices & Accesories
Changing Cocktails… One Spiced Rim at a time
RoxiSpice helps turn a commonplace cocktail into an exciting drink sensation for your beverage menu. RoxiSpice adds vibrant color, enticing aroma and exceptional flavor and texture to any beverage glass or mug. From milk shakes to martinis and everything in between, RoxiSpice is a unique garnish perfectly designed for the rim of your favorite beverage, drink or cocktail.
The RoxiSpice Rimming System has three parts:
Our Tower contains 5 easy access drawers and a built-in wetting sponge
Rimming Syrup for binding spices that do not clump or run in the drink
Our 21 exciting flavored spices
The RoxiSpice start-up kit will give you everything you need for your establishment to experience RoxiResults. We have several different start-up kits to make sure the customer gets exactly what they want for the best possible price. Contact us for product and ordering information.
Rimming Products & Dispensing
Tower
The RoxiSpice Drinkware Rimming Tower is real innovation! The patent pending utility and design are centered on bar ergonomics and space. With a smaller foot print than the standard Margarita style rimmer, the Tower preserves and protects Spice, contains 5 easy access independent drawers, has a built in wetting sponge, and is simple to exchange or refill flavors and clean.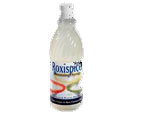 Rimming Syrup
Rimming Syrup is specially formulated to bind RoxiSpice to plastic and glass drinkware for a "perfect" rim. Its wetting and adhesive properties allow for faster, more efficient and more consistent rims each time. Rimming Syrup has a neutral flavor so you can use it with any Spice flavor and beverage combination. It will resist 'running' or dripping down your drinkware and will protect your Spice from clumping.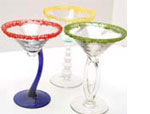 Spice Products
Get the "Wow!" response and enhance the flavors of your beverage menu. While ordinary rimming salts and sugars alone do little to enhance beverages, none have the natural fruit and natural spice flavor of RoxiSpice. The powerful flavor of RoxiSpice emphasizes the intended flavor, adds aroma and gives color and texture to the beverage… RoxiSpice is an ingredient for the distinctive drink recipe.

Flavors – packed in 9 oz. eco-friendly trays that fit neatly in the RoxiSpice Tower:
Bloody Mary
Chocolate
Cinnamon Graham
Green Apple
Lemon
Licorice (Anis)
Margarita Lime
Melon
Mint
Piña Colada
Pomegranate
Raspberry
Salt (kosher style)
Sour Peach
Strawberry
Sugar
Vanilla
Watermelon
RoxiRox Citrus
RoxiRox Toasted Marshmallow
RoxiRox Mint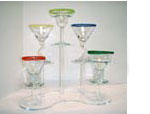 Stand
Get the most from RoxiSpice when your customers SEE the presentation. Feedback from the most successful venues consistently says that their rims are on display. This elegant display stand makes all the difference, particularly when space may be a concern. Show-off your drinkware and specialty menu! Dimensions: H 9", D 7", W 12".
Retail - At Home Use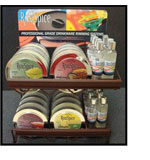 Having a hard time finding something new for your next cocktail party…look no further. Not only will RoxiSpice complement the drinks you're making but it adds that special touch you can't find anywhere else!
Retail kit contains a complete rimming system:
6 oz. Spice pouch
Rimming dish with wetting sponge tray
4 oz. bottle of Rimming Syrup
Contact us to get your RoxiSpice rimming spices and accessories.