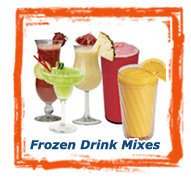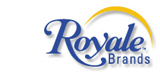 FREEZ-A-DRINK Products
Products > Royale™ Brands Frozen Drink Mixes
Today's patrons want flavor!
Royale™ Brands make serving frosty, flavorful, fresh frozen drinks and smoothies easy and profitable. Our products are made with real fruit purees that don't separate even if you add alcohol. Your customers will notice the flavor and order more often. (That's the secret!)
Whether it's Margaritas, Piña Coladas, Strawberry Daiquiris or one of the other fourteen Royale™ Brands flavors, for serving frozen, chilled, or on-the-rocks, we've got your mix!
Features of Royale™ Brands frozen drink mixes:

Mixes accommodate blenders, shavers, and frozen drink machine applications.
Non-refrigerated, shelf-stable mixes never require refrigeration and are always available.
17 flavors to choose, made from 100% natural fruit purees.
Portion Control Pumps assure consistency for taste and control cost.
Total Point Of Sale marketing program, customizable to your needs — Table Tents, Recipes, Posters
Flavors to choose from cocktails or smoothies:
Peach
Pineapple
Raspberry
Watermelon
Mojito
Lemonade
Triple-Berry
French Vanilla
Strawberry
Piña Colada
Banana
Blue Lagoon
Hurricane / Rum-Runner
Mango
Margarita Green
Viva Margarita Gold
Orange Crème
Contact us today to get Royale Frozen Drink Mixes.